Most of the wording in this post
is taken directly from the article
(please see note at end of post)
eppylover
note:
Despite the official verdict of suicide, the murder of Jacobs by the Kray Gang
is pretty much assumed to be true.

However, I must reiterate that any rumours about Brian Epstein being murdered
the year before are far-fetched, to say the least.
---


Brian Epstein hired David to represent the Beatles when he
moved NEMS down to London from Liverpool. In return,
David introduced Brian to the London gay scene.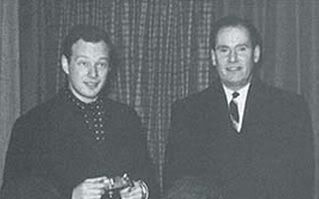 The Eppy Connection:
In December of 1968, David Jacobs was found hanging from a length of satin tied to one of the beams of the garage at his seaside home.


The BBC's gripping dramatisation of Jake Arnott's novel The Long Firm has cast a revealing light into the murderous shadows of the Kray Gang, which brought terror and intimidation to London's East End in the 1960s. It focuses on the criminal conduct of gay gangster Harry Starks whom, many believe, was modelled on Ronnie Kray, a homosexual psychopath who died in Broadmoor in 1995 after being convicted of two murders.

But one aspect remains unresolved: Did Ronnie Kray order the murder of flamboyant showbiz lawyer David Jacobs for refusing to help him and his twin brother Reggie in their hour of need?

Jacobs was the suave, arrogant, senior partner in the firm of M.A. Jacobs Ltd of Pall Mall. His clients included Marlene Dietrich, Diana Dors, Judy Garland and the Rolling Stones. He had represented Liberace in his successful libel case against Cassandra of the Daily Mirror for calling him, among other epithets, "this deadly, winking, sniggering, snuggling, chromium-plated, scent-impregnated, luminous, quivering, giggling, fruit-flavoured, mincing, ice-covered head of mother love." Jacobs had seen his client commit perjury in the witness box by denying he was homosexual and walk away with £8000 in damages and £27,000 in legal costs.


One month before the Kray Twins stood trial at the Old Bailey in January 1969, charged with the murders of George Cornell and Jack "The Hat" McVitie, Jacobs was found hanging from a length of satin tied to one of the beams of the garage at his seaside home. At that stage, the Krays had been in custody for months and had sent a message to Jacobs that they desperately needed his shrewd legal brain to beat the charges against them. But Jacobs turned them down and, some believe, paid with his life. No one said no to Ronnie Kray (pictured here to the right of his brother, Reggie) and got off scot free.

Beatles boss Brian Epstein knew Jacobs' reputation as the sharpest lawyer in the capital. He also knew that Jacobs was homosexual. "Brian hired David to represent the Beatles when he moved down from Liverpool," says a showbiz writer who knew both men well. "In return, David introduced Brian to the London gay scene. David was 6ft 2in tall and openly gay – he wore make-up, even in court in front of disapproving judges. He intimidated everybody, not only the other side in court cases but his clients as well, and he was incredibly pompous. The only person who wasn't a bit frightened of him was John Lennon. John was mercilessly cruel to him; he was always taking the piss.

David and Brian often had lunch near his office at Overton's, an expensive fish restaurant in St James's Street, or at La Caprice in Arlington Street. They both took enormous amounts of amphetamines. Brian swallowed handfuls of speed and David took even bigger handfuls – he took absurd amounts and, of course, suffered terribly from depression the following morning. He was a leading member of the London gay scene and he certainly knew Ronnie Kray."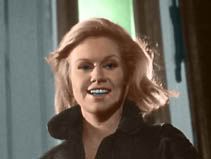 One of the people Jacobs sometimes lunched with at La Caprice was beautiful young English actress, Suzanna Leigh, who he had known since she was a child. "He was like a godfather to me," she says. Jacobs had advised Suzanna in her film career which had seen her signed to Paramount Pictures by the legendary Hollywood producer Hal Wallis to star in movies with Elvis Presley and Tony Curtis.

After returning from Los Angeles to her home in Belgravia, Suzanna was heartbroken to read in the newspapers of Jacobs' death on 15 December 1968. A few minutes after she had read the news, a postcard dropped through the letterbox; it was from Jacobs, inviting her to lunch at La Caprice the following week. "I was holding the newspaper telling me he was dead in one hand and the postcard inviting me to lunch in the other," she said. "It didn't seem right." Had 56-year-old Jacobs really walked to the postbox near his home, 2 Princes Crescent, Hove, and posted his card to her, then calmly gone into his garage and hanged himself? Or were more sinister forces at work?

Suzanna was so disturbed by the incongruity that she rang Scotland Yard and told them of her suspicions. Two detectives visited her. Her boyfriend at the time, a society hairdresser, witnessed the conversation. The policemen told Suzanna that Jacobs had been murdered and that the murder had been carried out because the lawyer had refused to represent the Krays. The police then said the Krays were facing other murder charges that would put them behind bars for life; it would not be necessary to charge them over Jacobs' death. This explosive story was held out of Suzanna's autobiography, Paradise, Suzanna Style, because Reggie Kray was still alive and it was thought there might be legal complications, even though he was not being accused of the murder.

It has since been learned that Jacobs had asked for police protection shortly before his death and it is probable that he told the police about turning down Ronnie Kray's plea for legal help. Certainly, he was a broken and terrified man in his final days. A private detective who worked for Jacobs at his Pall Mall practice says: "I last heard from David two days before his death. He telephoned my secretary and told her it was urgent that I contact him. When I rang back, he burst out, 'It's no good, I'm in terrible trouble. They're all after me.'" The private eye asked who he was frightened of and Jacobs reeled off a list of six famous people in show business. The detective told him "not to worry" and rang off.

PHILIP NORMAN

But author Philip Norman says of Jacobs in his Beatles book Shout! that "several of his friends and associates were later to remember that in his last weeks alive he had seemed profoundly upset and worried about something." This was when he had asked for police protection; it is not known whether it had been granted. An inquest into Jacobs' death recorded a verdict of suicide while the balance of his mind was disturbed.

As predicted, the 35-year-old Krays were found guilty of murder at their trial and jailed for life by Mr Justice Melford Stevenson who ordered that they should not be released for 30 years. The jury convicted Ronnie Kray of killing both George Cornell and Jack McVitie and convicted Reggie of the knife attack that killed McVitie while Ronnie pinned his arms. And there the matter might have rested but for a fascinating postscript: Two years ago convicted criminal Bradley Allardyce claimed that Reggie Kray's first wife Frances had been forced by his brother Ronnie to take the pills that killed her: her apparent suicide had, in fact, been murder.

Allardyce had been released from prison after serving nine years for armed robbery. He spent three of those years in Maidstone prison, four cells along the landing from Reggie Kray. The pair had spent most of their time in each other's company. Allardyce claimed on BBC Radio 4 that one night Reggie Kray revealed to him the thing that haunted him the most. "I was sitting in my cell with Reg and it was one of those nights where we turned the lights down low and put some nice music on and sometimes he would reminisce. He suddenly broke down and said, 'I'm going to tell you something I've only ever told two people and something I've carried around with me'. He put his head on my shoulder and told me Ron killed Frances. He told Reg what he had done two days after." Maureen Flanagan, a frequent visitor to the Kray home and their mother's hairdresser, had been close to Frances. "When she first came on to the scene the first reaction from Ronnie was jealousy, sheer and utter jealousy," she said. "Someone else is coming in to separate them two - he did not want to be separated."

Ronnie Kray knew how to have someone killed and make it look like suicide. Reggie Kray also admitted in his last interview before he died in October 2000 that he had been responsible for another murder. In an interview with the BBC, Kray was asked if he had been refused parole for so long because he had been involved in another killing. He replied: "One, one." He did not name the victim, but Leonard "Nipper" Read, the detective chief superintendent who arrested the Krays, thought that the victim was "Mad Teddy" Smith. Smith was a psychopathic homosexual rumoured to have had affairs with Ronnie Kray and Tom Driberg, the former Labour MP. He disappeared the day after an argument with the Krays in 1967.

Since its publication in 2004, this entire article has been taken off the Mayfair News website ~ but you can (for the time being) find it cached on the "Wayback Machine" at web.archive.org - do a CTL-F page find for the search term kray, and the original text will be headed under the title, Murder mystery of Ronnie Kray and the Beatles' showbiz lawyer.

-- FYI, it's the last article at bottom of the page.